Donations and Memberships
To donate to The Jefferson Council and join as a Member, please click here.
Everyone donating $200 or more will receive a complimentary gift of an awesome Jefferson Council cap in UVa colors — your choice of blue or orange!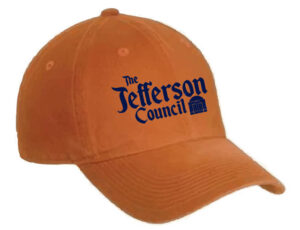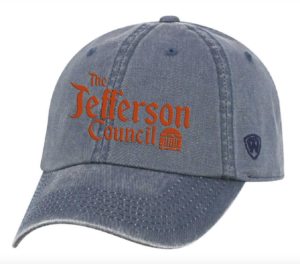 We will accept checks when digital payment is not practical. In such instances, please contact our treasurer, Tom Neale, at tom74@comcast.net.
We urge you to donate and join our organization, but we understand if it's not possible for you at this time. If you are a current UVa student, we encourage you to stay updated with our organization by becoming a Friend of The Jefferson Council.
To become a non-donating Friend of The Jefferson Council and receive email updates, please click here. 
Why We Need Your Support
The Jefferson Council is mobilizing support to protect Thomas Jefferson's legacy and fight for intellectual diversity at the University of Virginia.
We are a not-for-profit corporation domiciled in Virginia. The Internal Revenue Service has approved our 501(C)(3) status, therefore your contributions will be tax deductible. (See attached documents: Employer ID #, Commonwealth of Virginia Uniform Registration Statements for Charitable Organizations, The Jefferson Council articles of amendment .name change, and IRS name change approval letter.)
A financial statement is available upon written request from the Virginia Office of Charitable and Regulatory Programs, P.O. Box 1163, Richmond, VA, 23218.
Numbers matter. We need to bolster our membership — both dues paying and non-dues paying — to show the Administration and the Board of Visitors that there are thousands of disgruntled alumni/ae, parents, and friends of the University demanding change. Membership links are below.
Donations are used to support student organizations and to fund preeminent moderate and conservative speakers in support of the four core principles that The Jefferson Council espouses:
Defending the legacy of Thomas Jefferson;
Protecting the sanctity of the Lawn;
Upholding the preeminence of the Honor Code in the student body experience; and
Ensuring that true intellectual diversity exists on Grounds, not just the monolithic Progressive perspective that currently dominates academic course offerings and discussions in public forums.