Upcoming Events
Annual Meeting — April 4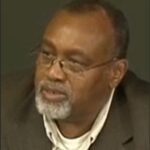 The Jefferson Council will hold its second annual meeting April 4th. Our keynote speaker will be Glenn Loury, a renowned conservative economist and outspoken African-American critic of Diversity, Equity & Inclusion (DEI). The program will commence at 3:00 p.m. and include cocktails and dinner. The venue will be Alumni Hall in Charlottesville. Space is limited. Register now to guarantee admittance.
George Will — April 25
Pulitzer Prize-winning columnist George Will is coming to Charlottesville April 25th. The title of his speech is "The Bad Ideas Fueling Today's Attack on The Best Idea — Free Speech." The event, which the Jefferson Council is co-hosting with the UVA Center for Politics, will be held 7:00 p.m. in the Minor Hall Auditorium. Register now to guarantee admittance.
Past Events
Douglas Murray, author of "War on the West" and "The Madness of Crowds."
Feb. 21, 2023
View the video.
Kellyanne Conway, Senior Counselor to the President in the Trump White House
Sept. 29, 2022
View the video.
Save America From the Woke Left with VP Mike Pence
April 12, 2022
In partnership with the Young America's Foundation, former Vice President Mike Pence gave a wonderful lecture at Old Cabell Hall.
View the video.
Inaugural Annual Meeting
April 5, 2022
Our organization hosted an Inaugural Annual Meeting to discuss pressing topics related to our Four Pillars at Alumni Hall in Charlottesville, Virginia.
View the event summary and videos here.
Preserving the American Tradition with former Congresswoman Mia Love
View the video.
In Defense of Thomas Jefferson
With National Review Editor Rich Lowry and Texas Congressman Chip Roy.
October 8, 2021
View the video.