On the morning of Sept. 11, the Young America's Foundation at the University of Virginia held a service to remember the 2,977 Americans who died in the wave of terrorist attacks 20 years previously. The conservative group planted 2,977 tiny flags in rows in the university Amphitheater. Dan Moy, a retired Air Force colonel, gave the address.
The event was supported informally by the UVa administration. President Jim Ryan was among those in attendance.
The event went as planned, but that evening, someone discovered that the flags were in disarray. Intruders had knocked over many of the colors, strewing them about, and had flipped over a table with a banner.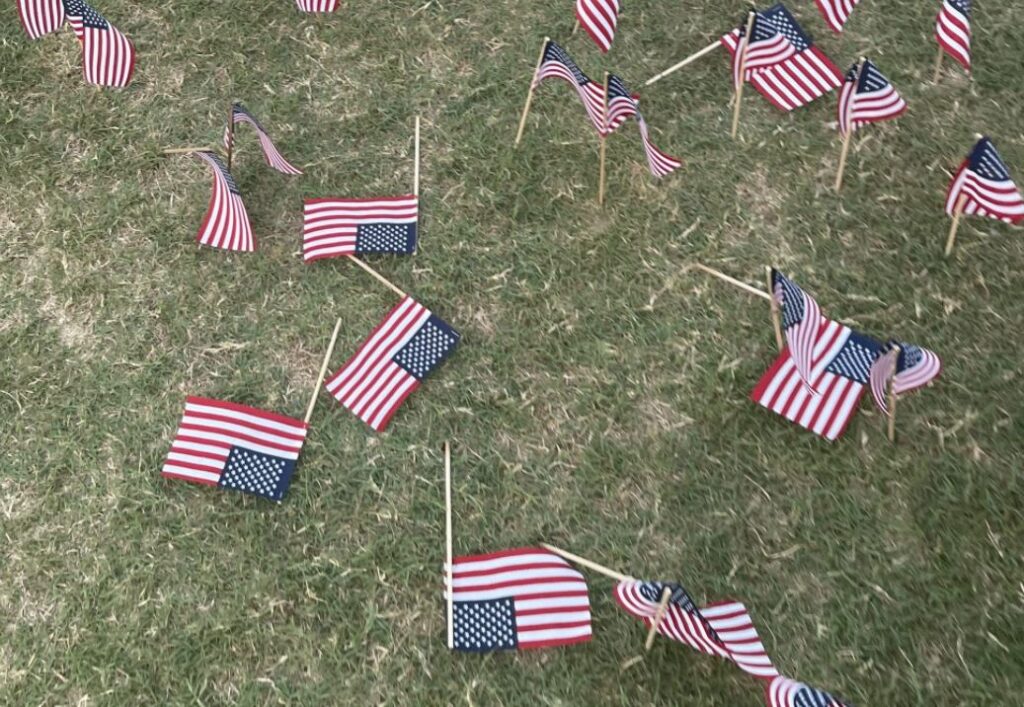 Students called the campus police. A review of the surveillance video revealed two individuals flipping the table. reports The New Guard, a publication of Young America's Foundation.
"I find it disheartening that some students are not able to understand the tragedies of 9/11. This year being the 20th Anniversary of the horrific terrorist attacks, it was especially important to honor and remember the 2,977 lives lost," UVA YAF Chair Nick Cabrera said.  
 "I pray for those that flipped our table and worked to remove our flags. I pray that they will eventually understand their precious American freedoms, rather than acting on hatefulness and undermining the Terrorist Attacks of 9/11/2001," he continued. 
 "Though our table was flipped, and flags removed by 2 students, YAF at UVA will continue to remember and never forget those that we lost on this day, 20 years ago," he said.
Before revelations of the vandalism, Ryan tweeted a supportive message: "Many thanks to YAH @ UVA for organizing this morning's moving event commemorating the lives lost on September 11."
Some members of the UVa community did not take Ryan's endorsement well. Responses included: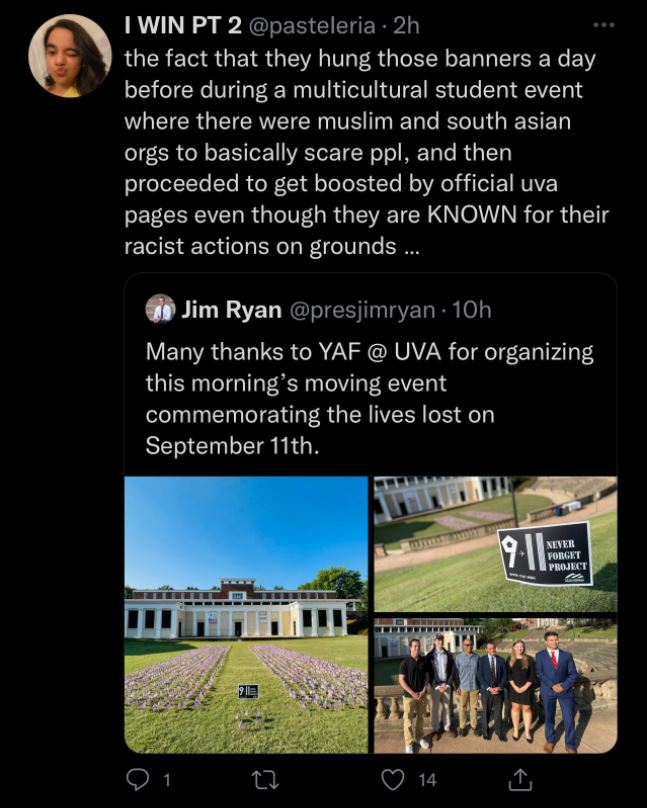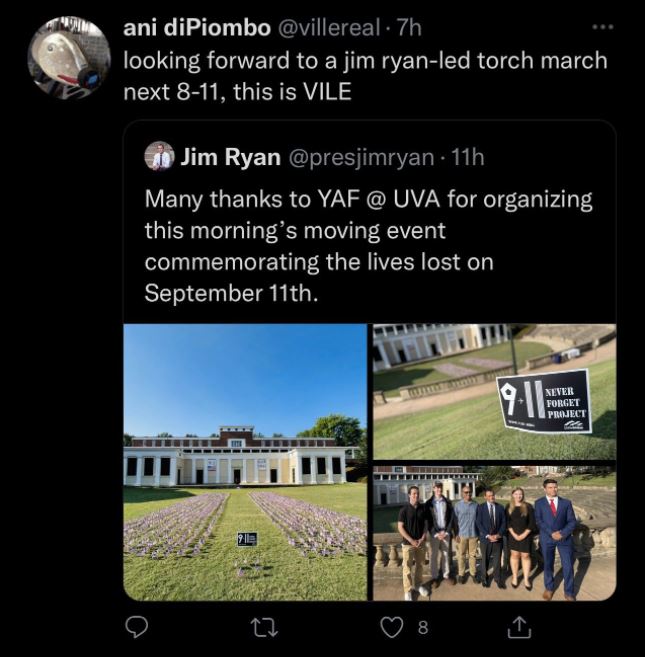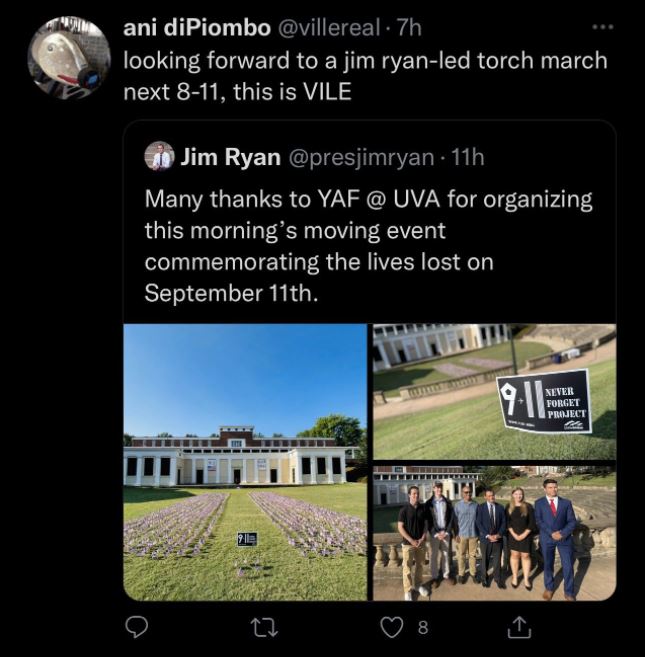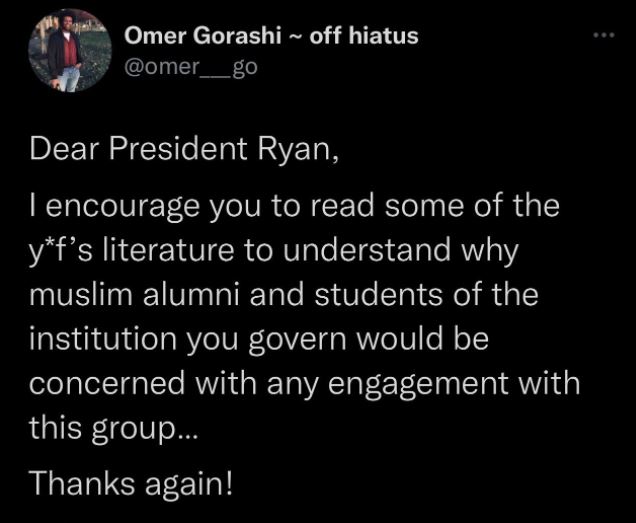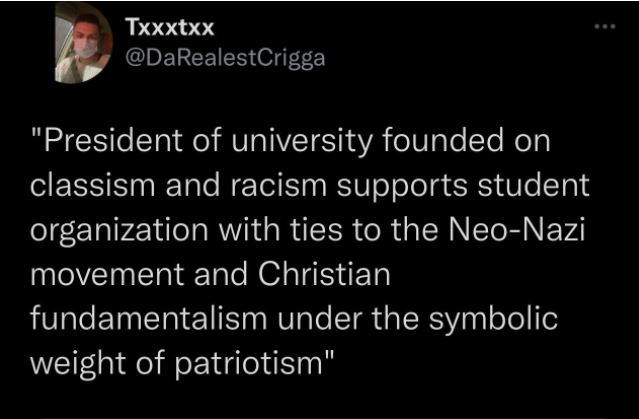 The Jefferson Council commends Ryan for supporting the memorial service as well as other actions taken recently, including the opening of a Veteran Student Center to provide student veterans and ROTC students a space where they can gather.
"Our ultimate goal with the student veterans here at UVA is to create a veteran experience that's on par with other comparable universities, and we're a little bit behind," President of the Student Veterans Association Tim Brown said. "Opening the space kind of catches us up a little bit."
Much of the money paying for the center came from alumni and the Jefferson Trust, an arm of the University of Virginia Alumni Association.
The Ryan administration has taken other steps — such as appointing a committee to craft a statement on free speech and expression, and persuading a resident of the Lawn to remove the "F— UVA" sign on his door — that uphold Thomas Jefferson's legacy and protect free expression. As of yet, however, the administration has taken no action regarding the vandalism of the 9/11 flags.