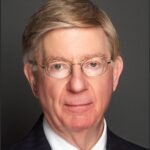 The Jefferson Council invites you to hear George Will April 25th at the University of Virginia. The topic of his address could not be more timely: "The Bad Ideas Fueling Today's Attack on The Best Idea — Free Speech."
Will began writing national syndicated columns in 1976, making him one of the longest-running pundits of our time. He's also one of the best, winning the Pulitzer Prize for commentary in 1977. Age has not in the least dimmed his way with words or the incisiveness of his critiques.
The assault on free speech has been a top-of-mind issue for the conservative columnist recently. Consider a recent column he wrote about campus radicals at Stanford who shut down the speech of federal Judge Stuart Kyle Duncan.
The noun "parent" has become a verb as many people embrace the belief that perfectibility can be approximated if parents are sufficiently diligent about child-rearing. So, "helicopter parents" hover over their offspring to spare them abrasive encounters with the world. And "participation trophies" are given to everyone on the soccer team, lest the excellence of a few dent others' self-esteem — the fuel that supposedly propels upward social mobility.
Continue reading →