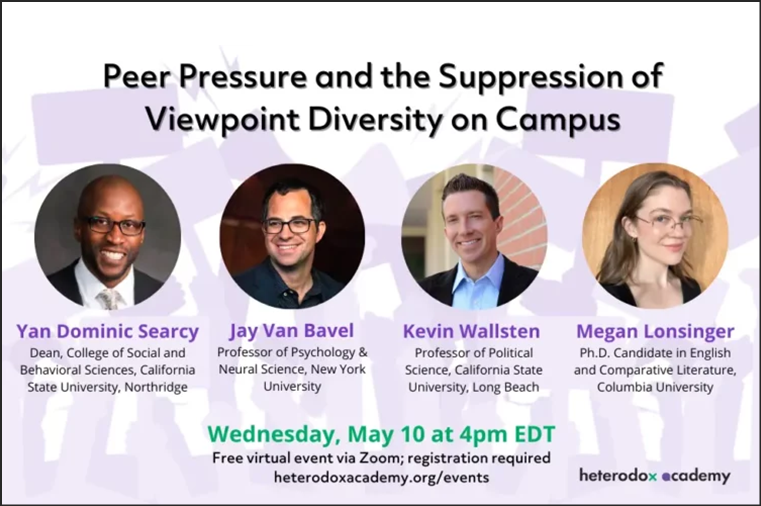 The University Open Inquiry Forum ("UOIF") and Cornell Free Speech Alliance ("CFSA") invite you to participate in the Heterodox Academy "Livestream Webinar" occurring at 4pm ET on Wed, May 10, 2023 on the subject of:
"Peer Pressure and the Suppression of
Viewpoint Diversity on Campus"
PLEASE REGISTER HERE
for this 4pm ET May 10 Livestream Webinar.
FORWARD TO ALL YOUR UNIVERSITY FRIENDS & COLLEAGUES.
ALL ARE WELCOME!
By becoming better informed, you can help CFSA address the "Cancel Culture" Crisis at Cornell University — and other higher-ed institutions.
As has been widely and increasingly reported by Faculty, Students & Alumni, Cornell University is now facing an acute Cancel Culture crisis on campus. The GroupThink, Monoculture, Viewpoint Suppression, and Academic Freedom impairments at Cornell have grown so severe that the American Council of Alumni & Trustees ("ACTA") has cited Cornell as 1 of 3 US universities where ACTA has launched a focused "Campus Freedom Initiative". In addition, the highly respected Foundation for Individual Rights in Expression ("FIRE") has joined the efforts of Cornell Free Speech Alliance ("CFSA") and completed a Cornell student survey which concluded the following: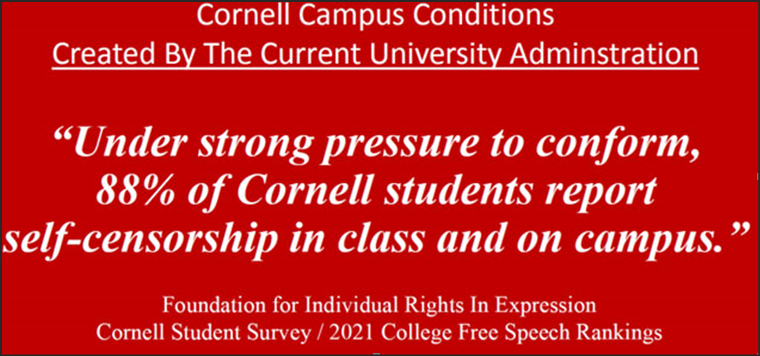 In light of the above campus conditions, the Cornell Free Speech Alliance ("CFSA") has formally and repeatedly reached out to the Cornell President and Administration to urge that that the Administration initiate policy reforms to reverse the educational and reputational degradation at Cornell which will worsen if the Administration continues to embrace and advance policies which impede Academic Freedom, Viewpoint Diversity, and Free Expression on campus. With over 15,000 concerned alumni members and followers, CFSA has repeatedly made attempts to engage with the Administration to discuss programs and policies which can help Cornell reverse the dangerous course it has been following in recent years. Unfortunately, despite CFSA's repeated attempts, the Administration has refused to respond to this large assembly of CFSA alumni and has ignored the needed policy measures that CFSA has recommended (including Free Speech Training for all new students).
To learn more about the barriers to Free Expression and Academic Freedom at Cornell and other leading US universities, please register below for the May 10 Heterodox Academy Livestream Webinar:
PLEASE REGISTER
Also, to help CFSA bring much needed policy reform to Cornell University in order to advance and protect Academic Freedom, Viewpoint Diversity, and Freedom of Expression on campus, please donate to CFSA per the instructions below.