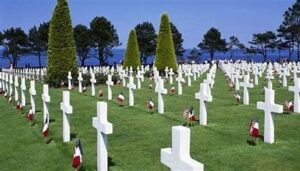 Friends and members of The Jefferson Council for the University of Virginia,
79 years ago on June 6, 1944, 156,000 Allied troops from America, Great Britain and Canada stormed the beaches of Normandy. They assaulted the German forces entrenched in pillboxes and surrounding hills who desperately tried to repel our forces with unrelenting machine gun and artillery fire. Despite facing almost suicidal odds, the Allied infantry hit the beaches and charged ahead, sustaining high casualty rates, but ultimately overcoming our Nazi adversaries.
The Jefferson Council is fighting for our following four founding pillars:
Promote an academic environment based on open dialogue throughout the University.
Preserve the Jefferson Legacy.
Preserve the appearance of the Lawn as a UNESCO World Heritage site, and
Support and reinvigorate the Honor System.
However, make no mistake about it, we also pledge to restore Mr. Jefferson's University to the core principles he and our Founding Fathers fought to create and the men on the Normandy beaches gave their lives to preserve. The Normandy heroes shown above in their final resting places deserve no less. God bless them all.
We will persevere, as our ancestors did throughout America's history. The Jefferson Council officers pledge this to you on our honor.
Thank you for your continued support.
Warm regards,
Tom Neale
University of Virginia Class of 1974
President and Co-Founder
The Jefferson Council for the University of Virginia
Cell ph#: 410-804-0417