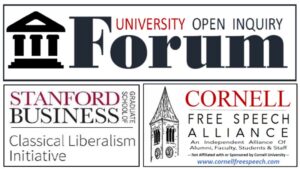 Register for the Livestream Debate, 1:30pm EST, Wed, May 3, 2023:
"Protecting Academic Freedom at U.S. Universities: Do Proposed Policies in Florida Make Sense?"
Many educational leaders have become acutely concerned that Academic Freedom and Free Expression are being abandoned at U.S. universities. In recent years, educational priorities seem to have shifted from researching and teaching "academic knowledge & objective truth" to the promotion of "political activism & social justice." Many see this educational "mission drift" as seriously undermining the fundamental purpose of U.S. universities – while others see such political activism in curricula and research as bringing necessary change to American society and culture.
Several U.S. states are citing the need to return universities to their traditional focus on "knowledge & truth" and away from "political activism." In Florida, Governor Ron DeSantis has led the effort to return public education to its traditional instructional practices and away from progressive political goals such as advancing controversial theories such as Critical Race Theory ("CRT"). However, some observers see the Florida educational reform efforts as violating, rather than upholding, Academic Freedom and Free Expression on campus.
At the May 3 event, two leading U.S. thinkers will debate and discuss the changing instructional purposes and policies of U.S. universities (in Florida and elsewhere) which have become controversial topics in today's America.
The Jefferson Council is pleased to co-sponsor this live-streamed event organized by the University Open Inquiry Forum, Stanford University, and the Cornell Free Speech Alliance.
The debate panelists are:
Keith E. Whittington is a Professor of Politics at Princeton University and also is a founding member of the Academic Freedom Alliance and the Chair of its Academic Committee. Christopher F. Rufo is a Senior Fellow at The Manhattan Institute where he serves as Director of the Initiative on Critical Race Theory.