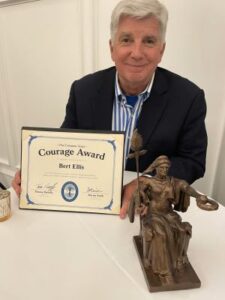 The Common Sense Society, an international organization dedicated to championing liberty, prosperity and beauty, has awarded its Common Sense Courage Award to Bert Ellis, serial entrepreneur, president emeritus of The Jefferson Council, and member of the University of Virginia Board of Visitors.
"Bert has worked tirelessly to promote intellectual diversity in the face of a radical and intolerant 'DEI' agenda, to protect the UVA Lawn, which is a UNESCO World Heritage Site, against defacement, and to promote the UVA Honor System, which champions integrity and honesty in students," stated the press release.
Common Sense cited the "unjustified smear campaign" unleashed against Ellis in local and national media.
"Bert has shown inspiring resolve against the anti-intellectual forces that are assaulting free speech and freedom of academic inquiry," said CSS president and CEO Marion Smith. "He has pushed UVA to focus on teaching instead of indoctrinating, defended its beautiful and historic UVA Lawn, and stood resolute in the face of an unjustified smear campaign. We are happy to present Bert with the Common Sense Courage Award."
"Integrity and rigorous debate are worth fighting for — they are vital elements in the effort to safeguard our liberties and raise a generation of leaders worth following," said Bert Ellis. "I accept this award with great pride and determination to continue the fight alongside my friends at Common Sense Society."
Past recipients of the award include Rosa María Payá, a Cuban human rights activist.