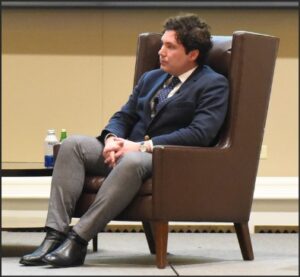 In our annual meeting on April 4th, you will hear how the Jefferson Council is fighting for free speech and intellectual diversity at the University of Virginia, and how our struggle is just one front in a nationwide alumni rebellion to reclaim America's universities from the left. From Marion Smith, president of the Common Sense Society, you'll hear how the crusade to restore American universities is part of an even larger war of the woke on Western Civilization.
As president of the Common Sense Society, which is dedicated to the defense of liberty, prosperity and beauty, Smith believes that ideas matter. He has recruited an all-star roster of conservative intellectuals – of whom a previous Jefferson Council speaker, Douglas Murray, is just one – in the defense of our way of life. A liberty-loving doppleganger of George Soros, he has built an international organization with offices in the United States, United Kingdom, the Netherlands and Hungary.
In his address to the Jefferson Council, "American universities and the battle for Western civilization," Smith will make the case that nothing less than democracy, market capitalism, and Enlightenment thought is at stake.
Click to view the full program.
Click to see the speakers' biographies.