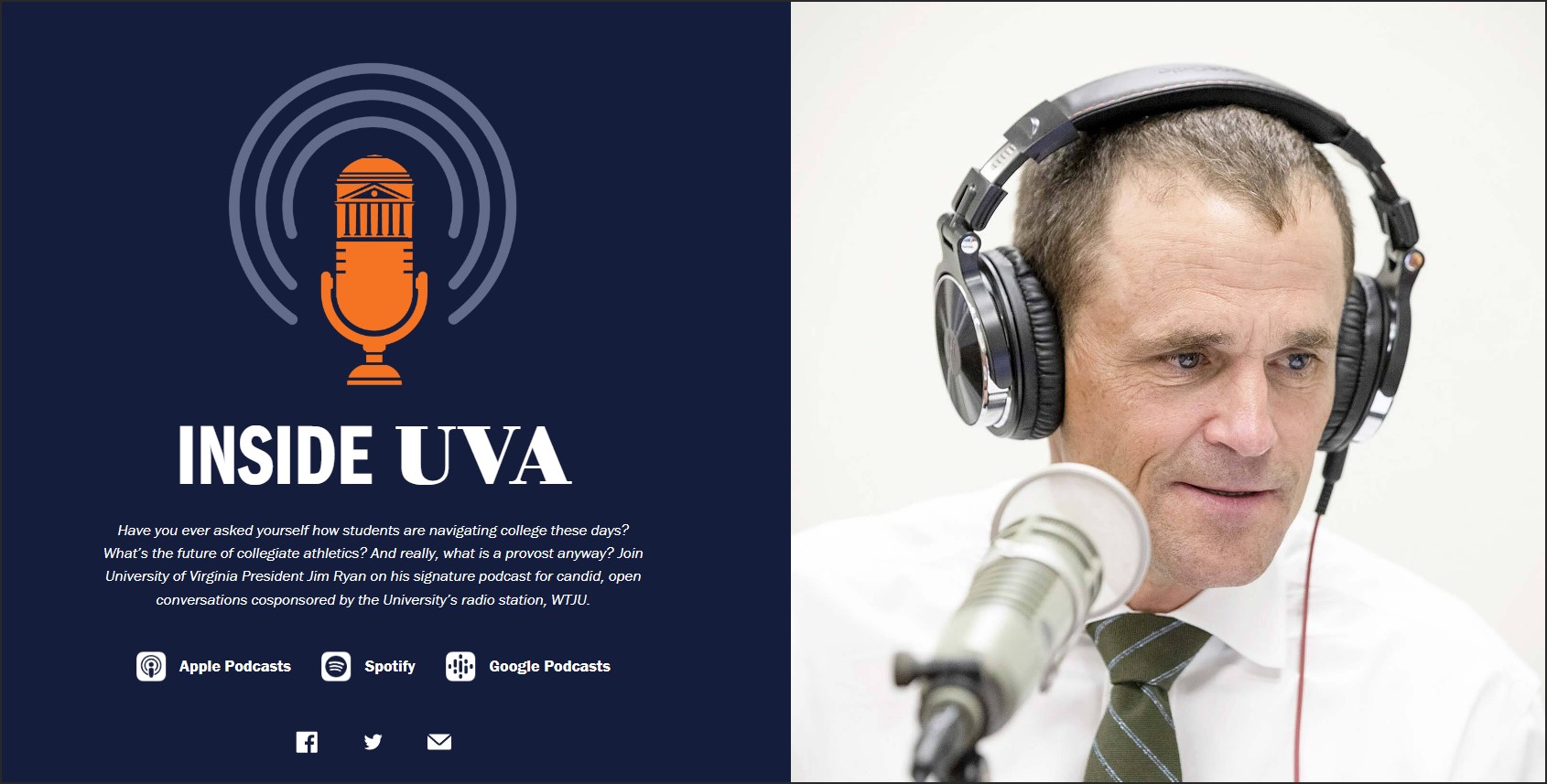 University of Virginia President Jim Ryan hosts "Inside UVA," a podcast designed to highlight the "inner workings" of the University of Virginia. Over the past two seasons, he has chatted with figures ranging from Rector Whitt Clement to alumni such as Katie Couric, administrators such as Provost Ian Baucom, and students such as Lauren Kim, chair of the University Judiciary Committee — 22 in all, so far. You can see the list here.
The "Inside UVA" promo bills the podcast as featuring "candid, open conversations."
No one from The Jefferson Council has been invited to appear… yet. But if President Ryan is interested in having a candid, open, civil conversation with someone who wishes UVa well but questions current policies and priorities, we'd be happy to volunteer. We'd even be willing to suggest some topics.
What does he mean when he says that UVa can be both "great and good"? Does being "good" encompass anything beyond "social justice" and "sustainability"?
What are his thoughts on Diversity, Equity & Inclusion? Does he believe America is systemically racist? Is UVa systemically racist? Does he share Ibram Kendi's definition of "anti-racism"? Does he share Robin DiAngelo's definition of "white privilege"? How does it improve students' sense of "belonging" when DEI policy places a premium on racial, sexual and gender differences?
Can he explain why UVa made the submission of SATs voluntary in the admissions process, and can he illuminate what criteria the admissions department uses in its place? To what degree are those criteria selected to engineer a particular demographic profile?
Does he value intellectual diversity? Is he concerned about UVa's drift toward an intellectual monoculture? How does he respond to concerns that mandatory submission of "diversity statements" weeds out anyone with conservative, libertarian or even middle-of-the-road political views?
Alumni, parents, students and faculty members might have other questions for President Ryan. If you have other questions, please submit them in the comments section. Perhaps the Jefferson Council will have the opportunity to raise them one day.