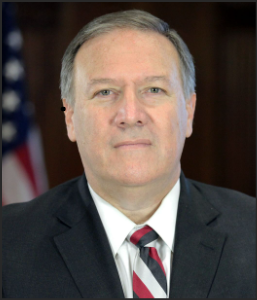 Save the date: Monday, September 25
Time: 7:00 p.m. to 8:15 p.m.
Location: Newcomb Hall Ballroom
Former Secretary of State and Director of the CIA Mike Pompeo will speak on the topic, "Talk softly but carry America with you: Inside negotiations on the world stage."
Michael R. Pompeo served as the 70th Secretary of State of the United States, Director of the Central Intelligence Agency, and was elected to four terms in Congress representing the Fourth District of Kansas. Mike graduated first in his class from the United States Military Academy at West Point in 1986. He served as a cavalry officer in the U.S. Army, leading troops patrolling the Iron Curtain. He left the military in 1991 and then graduated from Harvard Law School, having served as an editor of the Harvard Law Review. Up next was almost a decade leading two manufacturing businesses in South Central Kansas – first in the aerospace industry and then making energy drilling and production equipment.
Please join us for what promises to be an exciting evening listening to one of America's premier statesmen of the last half century.
SPONSORS: The College Republicans, The University of Virginia Center for Politics, The Jefferson Council for the University of Virginia, Young America's Foundation.
We will post a registration link shortly.