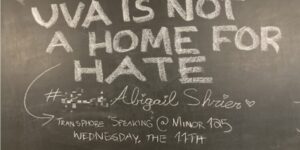 Another excellent article from our friends at The Jefferson Independent….
by Christine Schueckler
HATE HAS NO HOME AT UVA. The words have been plastered all over UVA Grounds for the past week, stretching from the first-year dorms to lampposts on the Corner and covering every pillar of Minor Hall. A series of brightly colored posters, beginning boldly with "HEY ABIGAIL," protest The Jefferson Council's invitation of Abigail Shrier, an award-winning journalist, to speak at UVA about her book Irreversible Damage: The Transgender Craze Seducing Our Daughters on Wednesday, October 11 at 7 P.M. The talk was co-sponsored by other conservative groups affiliated with the university, the UVA chapter of Young Americans for Freedom and the Common Sense Society, which only added fuel to the flames.
Dozens of students have posted the link to register for the event on their social media accounts, encouraging students to reserve tickets without attending the event in hopes of leaving Shrier with an empty room. The Editorial Board of the Cavalier Daily has similarly released an opinion article asserting that "certain types of speech simply should not be tolerated here on Grounds," encouraging students to exercise their own right to free speech by protesting Shrier's presence on Grounds. Per the picture above, the communal blackboard in Bryan Hall has also been branded with a scaldingly sarcastic advertisement for the talk (image blurred due to profane language), complete with air quotations and little hearts. (It may be interesting to note that JUSTICE FOR PALESTINE is scrawled right next to this announcement in massive, angry letters.)  Continue reading.