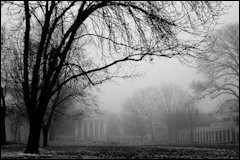 by James A. Bacon
The University of Virginia Board of Visitors did more than endorse free speech on university campuses Friday when it voted to adopt a Council of Presidents statement on free speech: It endorsed the principle of viewpoint diversity.
In 2012 the Board had embraced a 2021 statement on free speech by a commission appointed by President James Ryan. But that statement alluded only vaguely to the value of "exposure to a range of ideas." If the ideas discussed at UVa consisted only of different strains of leftism, the declaration on free speech wouldn't amount to much.
The statement of the Council of Presidents, which was crafted at the request of Governor Glenn Youngkin, made it clear that the exercise of free speech and the diversity of ideas are intertwined, and it implied that a wide range of ideas should be encouraged. (My emphasis added below.)
As presidents of Virginia's public colleges and universities, we unequivocally support free expression and viewpoint diversity on our campuses. Free expression is the fundamental basis for both academic freedom and for effective teaching and learning inside and outside the classroom. Our member universities and colleges are bound to uphold the First Amendment. We are committed to promoting this constitutional freedom through robust statements and policies that are formulated through shared governance processes and through actions that reflect and reinforce this core foundation of education. We value a scholarly environment that is supported by a diversity of research and intellectual perspectives among our faculty and staff. We pledge to promote and uphold inclusivity, academic freedom, free expression, and an environment that promotes civil discourse across differences. We will protect these principles when others seek to restrict them.
Ryan told the board that he wants the Council of Presidents statement to "inform what we do at UVa."
The challenge for Ryan and Provost Ian Baucom will be implementing those principles in an institution marked by a left/right ideological imbalance of roughly ten-to-one; in which a Diversity, Equity & Inclusion bureaucracy suffuses university policies with a leftist understanding of "equity" and requires employees to express their views of DEI in "diversity statements"; and in which many students and the faculty self-censor for fear of igniting a social media storm, sparking social ostracism, or suffering administrative punishment. Continue reading →