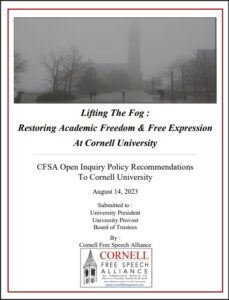 The Cornell Free Speech Alliance (CFSA) has published a masterful critique of Diversity, Equity & Inclusion programs at Cornell University, "Lifting the Fog: Restoring Academic Freedom & Free Expression at Cornell University."
The issues identified in Cornell are common to other elite higher-ed institutions, including the University of Virginia. The Jefferson Council is pleased to join the Alumni Free Speech Alliance, fellow alumni groups, and allied organizations in endorsing the report.
Among the recommendations:
Adopt the Chicago Principles of free speech. UVa has already adopted its own version of this document.
Adopt the Kalven Committee Report regarding the university's role in political and social activism. The Kalven Report asserts, "The university is the home and sponsor of critics; it is not itself the critic." UVa, which purports to be "great and good" is, as an institution, exporting its social activist ideals to the surrounding community.
Provide training inculcating the importance of free speech and viewpoint diversity.
State clearly and unequivocally that words are not physical violence, and physical violence is not speech.
Reject the "heckler's veto." Do not charge security fees to a student organization based on the organization's political beliefs or the anticipated reaction to an invited speaker. UVa has some but not all of the safeguards recommended.
Make viewpoint diversity a clearly stated objective. The UVa Board of Visitors has formally endorsed a statement in support of viewpoint diversity, but there is a vast gulf between the principle and the application of the principle.
Forbid compelled speech. UVa requires job applicants and employees to write "diversity statements."
Provide due process to students and faculty accused of infractions. No more star chambers for those who run afoul of sexual and racial harassment rules. Due process should include the presumption of innocence, the right to an attorney, the right to appeal, and the rights to confront the accuser, present witnesses, and cross examine witnesses. UVa's system is severely deficient.
Discourage students from spying on one another. UVa's "Just Report It" system encourages students to submit anonymous accusations of "harassment" against favored groups.
Eliminate DEI course requirements.