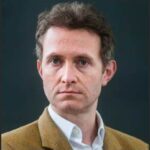 The University of Virginia was the first stop for Douglas Murray, author of "The War on the West," in a multi-campus speaking tour last month. He was accompanied by Marion Smith, president of the Common Sense Society, the lead organizer of the tour. (The Jefferson Council co-sponsored Murray's appearance at UVa.)
It is illuminating to read the reactions of both Murray and Smith upon the completion of the tour.
Wrote Murray in the U.K. publication The Spectator:
I started my week at the University of Virginia. It is one of the many American universities which have serious problems because of their founding – probably the majority do. In this case the University of Virginia has a problem because it was founded by Thomas Jefferson.

Until recent years, being founded by Jefferson – whether in the case of the United States or a university – was a badge of honour. Today it is a mark of Cain.
Read the whole thing.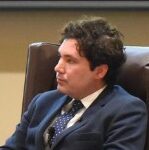 Writing in the North State Journal, Here's how Smith contrasted UVa with the University of North Carolina:
To my surprise, shortly after Mr. Murray and I arrived in Chapel Hill, the chancellor and provost asked to meet with us. We and leading alumnus Doug Monroe had a frank discussion with them about the danger posed by woke ideology, which blatantly seeks to stifle any voice or view that doesn't accord with a modern Marxist party line. We agreed that diversity of thought is essential to the success of higher education. So is the ability of students to assess arguments on their merits and not by pure emotion.  

I found it refreshing to have two university leaders defend the very essence of higher education. …

Prior to visiting UNC Chapel Hill, Mr. Murray and I traveled to the University of Virginia, where the educational climate is still trending in the wrong direction. There is little-to-no institutional willingness to defend free speech or create an environment in which different views are tolerated, much less openly debated. UVA's leaders have turned the campus of Thomas Jefferson — one of the most forward-thinking, curious, and enlightened leaders of his day — into a fortress of intellectual groupthink stagnation.  
UNC-Chapel Hill and the University of North Carolina higher-ed system are providing a "roadmap" for restoring "true education and intellectual inquiry to their rightful place on campus," Smith writes.
Compare and contrast with Virginia… Elements within UVa launched a smear campaign of rare viciousness against Bert Ellis, and confirmation of his appointment to the Board of Visitors was nearly blocked in the General Assembly. As for an invitation to chat with UVa's president and provost — ha! — no such request was forthcoming. Ellis personally mailed copies of "War on the West" to President Jim Ryan, Rector Whitt Clement, and every member of the board. Not one attended the Murray speech.
— JAB