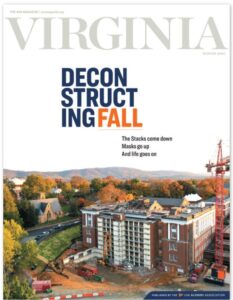 by James C. Sherlock
Sometimes things come together that confirm one's worst fears but improve hope for the future simultaneously. Such a turning point happened with me not long after UVa's alumni magazine, Virginia (Winter Edition 2020), arrived at my house earlier this month.
The first story in the magazine was a piece written by Richard Gard (Col '81), alumni association vice president for communications and editor of Virginia. It was titled "BOV Blesses Racial Equity Plan — More Diversity, Less Confederacy." Catchy.
It purported to update alumni on "Audacious Future: Commitment Required," the report of the University's racial equity task force, and the Board of Visitors' specifically partial and entirely unfunded endorsement of that report.
The members of that task force were:
Kevin McDonald, Vice President for Diversity, Equity, Inclusion, and Community Partnerships

 

Ian H. Solomon, Dean of the Frank Batten School of Leadership and Public Policy
Barbara Brown Wilson, Assistant Professor of Urban and Environmental Planning and co-founder and Faculty Director of UVA's Equity Center
All three were smiling in the pictures that accompanied the article. Hard to say why.
The article started out unpromisingly when Mr. Gard quoted UVa's President James Ryan offering his take on the proper context with which to view Thomas Jefferson.  
Mr. Jefferson was apparently unavailable to offer context on Mr. Ryan.
I found the rest of the article, beyond the obligatory paragraphs on re-landscaping and renaming of buildings, to be disingenuous at best.  
He left out the scary parts.
Mr. Gard attempted to create a "narrative" that simultaneously:
Acknowledged some but not the worst of the recommendations listed in the task force report;

 

Attempted to calm alumni by telling them "nothing to see here" — no funding was appropriated to fund the recommendations; and
Assumed that readers had never read either the report of the task force or the statement of the Board of Visitors. 

 
He first reviewed goals with which nearly everyone agrees — trying to create a more diverse faculty and student body while maintaining quality standards and avoiding quotas. The price to do that with faculty, since every institution of higher education and corporation is trying to do the same thing simultaneously, means joining a nationwide bidding war and the report acknowledges that. 
To increase the numbers of qualified minority student applicants means greatly improving Virginia's schools in heavily minority school districts, and the task force stepped up to recommend K-12 charter schools as one part of the solution.  Mr. Gard did not report a reaction from Virginia's School of Education and Human Development, which appears opposed to charter schools.
The fatal flaw of Mr. Gard's article, however, is that it utterly ignored the most radical element of the task force wish list — the profoundly Orwellian Racial Equity Scorecard.  
"Develop a scorecard of institutional racial equity goals that are posted publicly, reviewed annually, and used in leadership performance evaluations. .. We recommend that UVA adopt an equity scorecard at an aggregate level that draws upon scorecards within each school and major operational/ administrative division, including the Medical Center."

"The Equity Scorecard would be coupled with regular assessments of processes and programs across all racial equity initiatives and across the life cycle of faculty, staff, and students in their relationships with the University. These qualitative and quantitative assessments would specifically engage in review on the basis of an analysis of equity impact."

"To implement the Equity Scorecard will require an investment in data infrastructure, visualization, and analysis.  The Division for Diversity, Equity, and Inclusion, in partnership with the Office for Institutional Research and Assessment, the Vice President for Student Affairs, University Human Resources, the Provost's Office, and other networks and offices at UVA can assemble the data necessary to evaluate the equity indicators on an annual and longitudinal basis.

"The following table summarizes an example student lifecycle indicator set across multiple dimensions of inclusive excellence."
Intrusive does not begin to describe this menu of collection requirements. I'm not even sure collecting and storing some of the listed data is legal. "Sexual orientation"? "Gender Identity"? Cumulative debt? What the heck are "Learning Outcomes Assessments?
And what is to be done with "Sense of Belonging," "Perceptions of Being Valued," and some of the rest? How are they scored?
What are the necessary data and tools for monitoring faculty and staff? Social media and email monitoring, CCTV cameras in classrooms and lounges, secret reports on a helpline, recording devices in offices? What? The task force did not say.
But it endorsed and attached as Appendix C to their report a study by the Center for Strategic Diversity Leadership & Social Innovation LLC.  Neither the cost of the study nor the costs of its recommendations were revealed.
That appendix calls for an increase of the FTEs in the division of the Vice President for Diversity, Equity and Inclusion and Community Partnerships (could not make that up) from 19 FTE to something in the vicinity of 157 FTE positions as well as ten times as many diversity units and three times as many leaders at the Assistant VP level or above. Constant monitoring of everyone who sets foot on the Grounds, even after they graduate, is a lot of work.
So the task force has recommended the establishment, staffing, funding and equipping of University of Virginia thought police.     
The task force failed to recommend specific uniforms and insignia. Perhaps a contest?  
This was a proposal worthy of Xi Jinping. Mr. Gard failed to report it.
By doing so, he totally misled the alumni readership as to the radical, existential threat to the University from the portion of the university's racial equity movement represented by President Ryan's hand-picked task force. 
Yes, existential. Who would attend or work at such a school?
So, give a shout out to Mr. McDonald, Dean Solomon and Ms. Wilson next time you see them. They are dystopian futurists of major accomplishment. Seriously, what would make an American even dream up such a nightmare unless he or she is Steven King or George Orwell?
The good news is that the Board of Visitors treated the report with the seriousness it deserved. It recognized and accepted as aspirational some of the recommendations, not including Equity Scorecard, and funded none of them.  
Adults one, Marxists zero.
Mr. Gard's alumni association compensation package is around $200,000 a year. We also compensate his #2, the Alumni Association Director of Communications, almost $150,000 annually to be, among her other duties, managing editor for Virginia Magazine. Let's say, with payroll taxes and benefits, north of $400,000 for the pair.
Perhaps Lily E. West (Darden '12), the brand new president and CEO of the UVA Alumni Association, can reconsider her communications needs and spend some of that money for minority scholarships, as the University task force has recommended, and kill two birds with one stone.   
This column was republished with permission from Bacon's Rebellion.