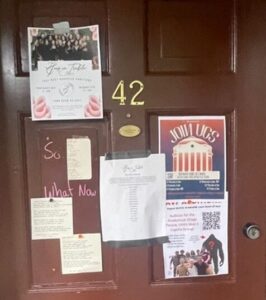 The new rules for occupying a prestigious room on the University of Virginia's Lawn allow students to post comments and materials on two message boards affixed to each door. An addendum to the "Terms and Conditions for Lawn and Range Residents, Housing and Residence Life" states:
"Any materials placed on the message boards must fit within the four corners of each message board and cannot extend beyond the outer edges of any such board."
The addendum also provides this context:
The Academical Village – the Rotunda, Lawn and Range rooms, hotels, gardens, and pavilions – is an area of historic and architectural significance that serves as the centerpiece of the University. The beauty and historical significance of the Academical Village is reflected in its designation as a UNESCO World Heritage Site. The Lawn is also the backdrop for many University events and draws visitors from around the world. It is a place visited by school children who are seeing a college campus for the first time, and a place where grandparents picnic with their grandchildren. It also regularly draws many local families and young children. … Lawn and Range residents should respect the unique nature of this space and use and maintain their rooms and exterior areas with appropriate care and consideration of others.