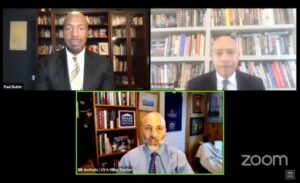 The University of Virginia's Miller Center kicked off 2021 with a virtual discussion entitled, "Race Relations and Criminal Justice in the New Year."
Kevin Gaines, African American and African Studies professor, was joined by Paul Butler, Georgetown University law professor and legal analyst on MSNBC, to discuss the aftermath of the Capitol insurrection and criminal justice reform, reports the Cavalier Daily.
The speakers used the Jan. 6 storming of the U.S. Capitol building by right-wing extremists as a jumping off point to discuss systemic racism.
In contrast to the police officers and National Guard who greeted Black Lives Matter protests in riot gear, the congressional police officers who defended the Capitol building were lightly equipped. "For many in law enforcement, it seems a violent mob of white men is not nearly as threatening as a gathering of Black people and their allies peacefully exercising their First Amendment rights," Gaines said.
"This is the price of ignoring anti-Black bias," Gaines said. "This is the cost of ignoring white supremacy."
The panel also discussed police brutality, mass incarceration and other topics pertaining to the criminal justice system.
— JAB